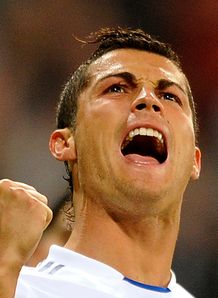 Cristiano Ronaldo believes he can emulate the success he achieved at Manchester United with Real Madrid.
The Portugal international has had an explosive impact since joining Real in 2009 and has scored nine goals in just four Primera Liga matches since the October international break.
The 25-year-old scored 84 goals in 196 appearances during his time at Old Trafford, winning three Premier League titles under manager Sir Alex Ferguson.
Now, Ronaldo is confident that he can win the same number of honours at Los Blancos telling Brazilian television station Globo: "I want to win the same number of titles in Madrid as I did during my time at Manchester United.
"This is my challenge. I feel good and confident, I am in a good moment and I want to stay that way.
"The goal is always the same - to win.
"We have a very good team and I am sure that if we work hard and have a little luck that we will win titles."